Welcome!
Voices From the Earth, Inc. is a theater arts organization based in Thomas, WV that has been serving the community since 1991.
Read a review of our CD Behind Enemy Lines
---
News and Upcoming Events
Please see our Calendar for a full listing of events.
Ilene Evans is available for bookings for Black History and Women's History Month 2013. Contact us!
Roll Call: A Memorial of Our Brave Black Soldiers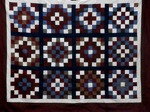 The hand quilting has begun on the new Civil War themed quilt by African American Quilter, Ida Murphy. This year's quilt is called "Roll Call" in honor of the United States Colored Troops serving in more than 160 regiments, fighting for their own freedom and the honor of the national dream of equality.


The raffle drawing for the quilt will be September 26, at opening night of the presentation of the new work of historical storytelling called Roll Call: Stories from the Brave Black Regiments of the Civil War. Performances: September 26, 27 and 28 at M.T. Pockets Theater in Morgantown, WW.
---
---
Upcoming Events
Please see our Calendar for a full listing of events.
March 17 3PM - Mt. Moriah Missionary Baptist Church Maybeury, WV - History Alive General Moses: Stories from the Life of Harriet Tubman Underground Railroad


March 23 2 - 6PM - Quilting Bee. Call 304-463-4561 for reservations


March 24 10:30AM - Unitarian Universalist Fellowship of Greater Cumberland in Cumberland, MD Behind Enemy Lines: Harriet Tubman in the Civil War


March 26 1:30PM - Eastern West Virginia Community College, Moorefield, WV - Behind Enemy Lines: Harriet Tubman in the Civil War


March 28 9AM and 1PM - Buffalo Middle School, Kenova, WV - Behind Enemy Lines: Harriet Tubman in the Civil War


March 30 2 - 6PM - Quilting Bee in Kempton, WV. Call 304-463-4561 for reservations


April 9 11:30AM - Women of Color Luncheon at Fairmont State University – Ethel Waters: Taking a Chance on Love


April 11 - West Virginia Library Association Spring Fling, Flatwoods, WV – History Alive program - General Moses: Stories from the Life of Harriet Tubman Underground Railroad


April 16 9AM and 11AM - Kingwood Elementary School, Kingwood, WV - Behind Enemy Lines: Harriet Tubman in the Civil War


May 19 2PM - Pricketts Fort, Fairmont, WV - Behind Enemy Lines: Harriet Tubman in the Civil War


---